Bespoke radiator covers to your exact specification
Welcome to Couture Cases, the largest range of bespoke radiator covers, custom made console tables and made to measure furniture in Europe.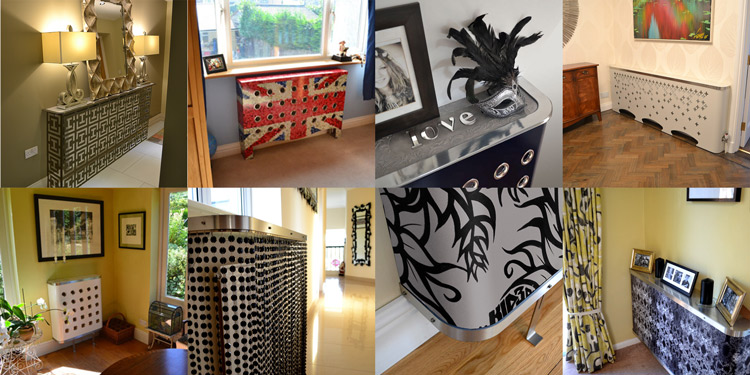 Bespoke radiator covers perfect every time
We work closely with every customer to create unique radiator covers to compliment or contrast with your chosen decor. Perfect for domestic, residential and commercial interiors, we recognise that every design is different and with the support and guidance of our award winning design team ensure your expectations are met and exceeded.
Every bespoke radiator cover is custom made to your exact design, simply choose a colour, choose whether you require both mirror tops and side mirrors, choose whether you require a wall mounted or floor mounted design, choose a style and then contact us with your dimensions.
High performance bespoke radiator covers
We create bespoke radiator covers with the very best heat performance. Cold air is convected upwards from the floor through every radiator cover and decorative console table. and dispersed directly into the room via the perforated holes and air vents in every radiator cover top. Our Crystal and LUNA covers have virtually no heat loss at all.
Perfect for modern residential and commercial interiors, perfect for displaying accessories, momentoes, flowers, photographs, or for displaying products in interiors such as hairdressing salons,interior stores, galleries, lobbies and reception areas.
Every custom made console and side table is manufactured in the UK by an award winning team of dedicated tradesmen and designers who are driven to create innovative designs that everyone can enjoy and use.
We are a truly unique company offering complete solutions to all hallway and wall furniture, interior styling and decorative laser cut furniture needs. Browse our extensive collection which we add to on a regular basis.
Create amazing new interiors by selecting a laser cut pattern such as arabic, moroccan, art deco, geometrics, retro, classic, period or designer; the options are endless.
Look out for our fully complimentary creative interior products such as lighting, contemporary furniture and architectural classic metal fabrications. We also offer a full interior design and consultancy service for all home and retail environments, from our award winning design team. Our products are beautiful to look at with glowing customer testimonials on our services to date
Gallery of radiator covers
Images below represent only a very small proportion of the different bespoke radiator covers styles.